Seeking NHCA Scholarship Foundation Director
We are looking for a new member of the NHCA Scholarship Foundation. This volunteer will enlist and review applications for our Conference, Research, and Tuition Awards, and will work with the NHCASF team to raise money for these three awards at each year's conference.  If interested, please contact Marjorie Grantham at

[email protected]

.
Is Methotrexate Ototoxic? Investigating the Ototoxic Late Effects of Pediatric Cancer Treatment. Moore B, Sheets G, Doss J, Umrigar A, Norman M, Fang Z, Prasad P, Musso A, Clay S, Tsien F. Am J Audiol. 2023 Aug 2:1-8. doi: 10.1044/2023_AJA-22-00157. Online ahead of print. PMID: 37532243

Evaluating the Potential Impact of Ototoxicant Exposure on Worker Health. Beaver C, Schneider J. J Occup Environ Hyg. 2023 Aug 4:1-48. doi: 10.1080/15459624.2023.2240874. Online ahead of print. PMID: 37540204

Healthcare Professionals and Noise-Generating Tools: Challenging Assumptions about Hearing Loss Risk. Alberti G, Portelli D, Galletti C. Int J Environ Res Public Health. 2023 Aug 4;20(15):6520. doi: 10.3390/ijerph20156520. PMID: 37569060

Association between Simultaneous Occurrence of Occupational Noise-Induced Hearing Loss and Noise-Induced Vestibular Dysfunction: A Systematic Review. Nadri H, Khavanin A, Kim IJ, Akbari M, Nadri F. Iran J Public Health. 2023 Apr;52(4):683-694. doi: 10.18502/ijph.v52i4.12436. PMID: 37551182. Review.

Risk Factors Associated With Occupational Noise Induced Hearing Loss In The Hispanic Community Health Study/Study Of Latinos: A Cross-Sectional Epidemiologic Investigation. Arnold ML, Sanchez VA, Carrasco DN, Martinez D, Dhar S, Stickel A, Perreira KM, Athanasios T, Lee DJ. J Occup Environ Hyg. 2023 Aug 24:1-15. doi: 10.1080/15459624.2023.2250403. Online ahead of print. PMID: 37615410

Asymmetry of Occupational Noise Induced Hearing Loss: An Electrophysiological Approach. DeJonckere PH, Lebacq J. Int Arch Otorhinolaryngol. 2023 Mar 29;27(3):e499-e510. doi: 10.1055/s-0042-1750766. eCollection 2023 Jul. PMID: 37564477

Hear and Now: Ongoing Clinical Trials to Prevent Drug-Induced Hearing Loss. Lee J, Fernandez K, Cunningham LL. Annu Rev Pharmacol Toxicol. 2023 Aug 10. doi: 10.1146/annurev-pharmtox-033123-114106. Online ahead of print. PMID: 37562496 Review.
Latest NHCA "Listen Up" Column in the Industrial Hygiene in the Workplace (IHW) Magazine
Every two months, NHCA experts contribute a short article to the IHW Magazine. The latest issue included the NHCA article titled "Hearing Protection – Risk of Overprotection" by Susan Cooper (https://industrialhygienepub.com/digital-edition/), July/August issue, page 24).

Future and past IHW magazine issues can also be viewed at: https://industrialhygienepub.com/. e-News will alert you the next time one of our NHCA experts contributes an article.
Can you hear the difference between a female and male mosquito?
 
Listen: https://tinyurl.com/RKwuzright
 
To learn more: https://tinyurl.com/Hairy-ears
 
Hearing of malaria mosquitoes is modulated by a beta-adrenergic-like octopamine receptor which serves as insecticide target. Georgiades, M., Alampounti, A., Somers, J. et al. Nat Commun 14, 4338 (2023). https://doi.org/10.1038/s41467-023-40029-y
 
Thank you, Susan Cooper, for this week's sound postcard from NPR's 18 August Goats and Soda, by Max Barnhart.
Save the Date for the 2024 NHCA Annual Conference!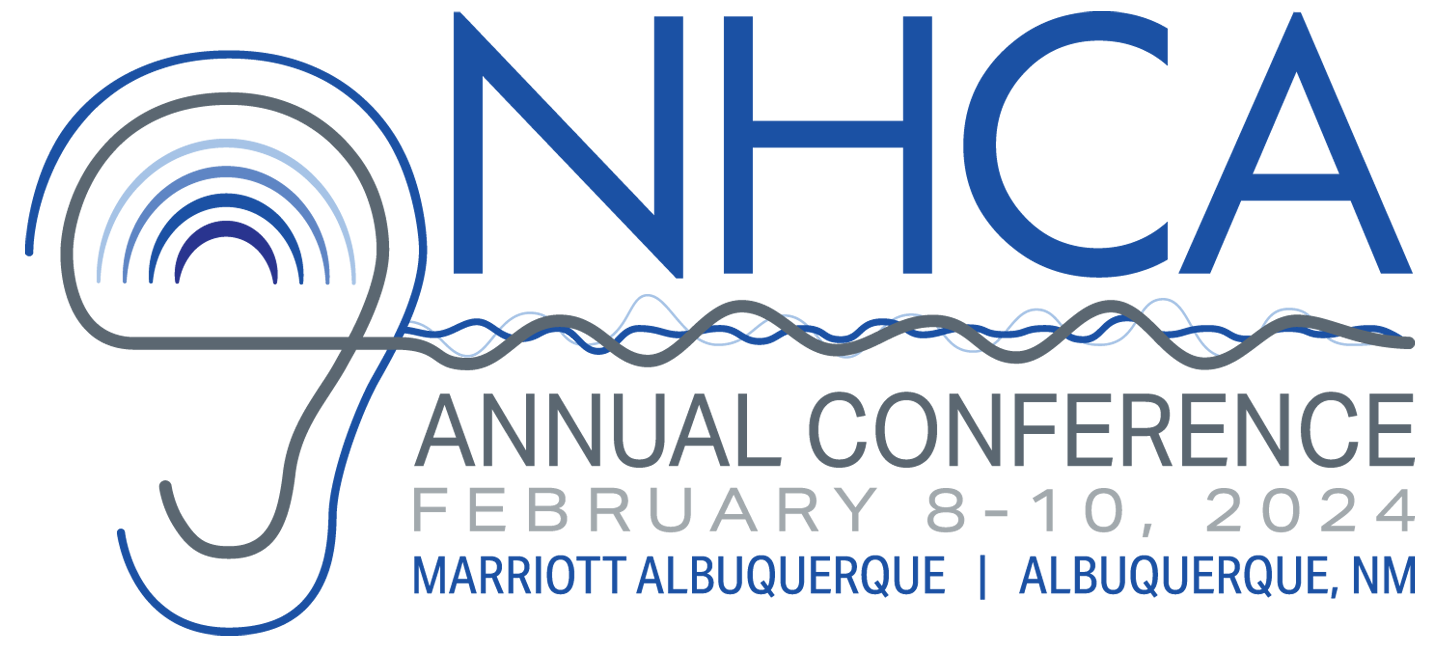 We hope to see you at the 2024 NHCA Annual Conference February 8-10 in beautiful Albuquerque, New Mexico! 

We are looking for our next head seeking hair cells, for our NHCA Scholarship Foundation fundraiser at our 2024 Conference. Thank you, again, to Bill Murphy, for sharing his pate with all of us! 
Members: Tell Us Your News!
Speaking, publishing, researching, performing, hearing? NHCA would love to hear about exciting changes and achievements in your professional and personal endeavors.

Who is NHCA?

We are a group of passionate hearing conservationists willing to share their expertise to prevent hearing loss. NHCA members include occupational and clinical audiologists, industrial hygienists, occupational health nurses, acoustical engineers and technicians, physicians, occupational health and safety professionals, military personnel, university professors, students, researchers and others with an interest in hearing conservation. 







Visit the Virtual Marketplace Year-Round! 



Learn more about NHCA's sponsors by accessing profiles, videos, and other helpful links here.
Our Vision: To prevent hearing loss and other auditory disorders due to noise and secondary environmental factors in all sectors of society.
Our Mission: NHCA provides leadership, expertise, and education on hearing loss prevention strategies and services to the broader professional community and empowers and supports members through networking and advocacy.
If you are not a member, click here and join today!
- Marjorie Grantham - Editor